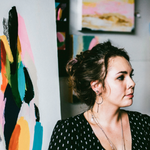 Angie Rose
A born and bred North Cackalackian, I'm influenced by what I've seen and experienced within the mountain vistas I still call home. I grew up in the small town of Sylva and then went to school at Appalachian State University where I obtained my BFA in Graphic Design. My studio is located at 205 Collaborative, the largest artist collaborative in Greensboro, NC. My medium of choice is acrylic paint, but I also love illustrating with ink, photography, and whatever else I can get my hands into! Angie Rose joined Society6 on October 23, 2015
More
A born and bred North Cackalackian, I'm influenced by what I've seen and experienced within the mountain vistas I still call home.
I grew up in the small town of Sylva and then went to school at Appalachian State University where I obtained my BFA in Graphic Design.
My studio is located at 205 Collaborative, the largest artist collaborative in Greensboro, NC.
My medium of choice is acrylic paint, but I also love illustrating with ink, photography, and whatever else I can get my hands into!
Angie Rose joined Society6 on October 23, 2015.