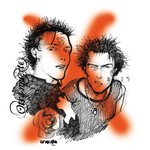 Anguilla Ink
Anguilla Ink, aka Michela Michekat Aimi, is an Italian illustrator and tattoo artist who started her Society6 shop in Dublin (Ireland) after a long period of thinking. At last, when she finally understood that thinking is not as important as feeling, she naturally found her path and Anguilla Ink was born. Anguilla Ink mixes graphics, drawing, photography and tattoo interests together and it begins from Michekat's prime passion: music, "the driving force of our living" (Andrew Wood). With her work Michekat means to thank all the artists who have been an inspiration in her life, her beloved and adored icons. Anguilla's name contains the name of an Irish singer, artist and poet who literally enlightened Michekat's way, Willa Lee. At the moment she's wandering in Italy, her home country, trying to find a place to settle, although her natural born wanderer shape seems very opposite to this wish. (To be continued...) Follow me on Facebook: www.facebook.com/anguillaink Instagram: michekat_jones Behance: www.behance.net/michekat Thanks/Bless Anguilla Ink joined Society6 on August 10, 2017
More
Anguilla Ink, aka Michela Michekat Aimi, is an Italian illustrator and tattoo artist who started her Society6 shop in Dublin (Ireland) after a long period of thinking. At last, when she finally understood that thinking is not as important as feeling, she naturally found her path and Anguilla Ink was born.
Anguilla Ink mixes graphics, drawing, photography and tattoo interests together and it begins from Michekat's prime passion: music, "the driving force of our living" (Andrew Wood). With her work Michekat means to thank all the artists who have been an inspiration in her life, her beloved and adored icons. Anguilla's name contains the name of an Irish singer, artist and poet who literally enlightened Michekat's way, Willa Lee.
At the moment she's wandering in Italy, her home country, trying to find a place to settle, although her natural born wanderer shape seems very opposite to this wish. (To be continued...)
Follow me on Facebook: www.facebook.com/anguillaink Instagram: michekat_jones Behance: www.behance.net/michekat
Thanks/Bless
Anguilla Ink joined Society6 on August 10, 2017.