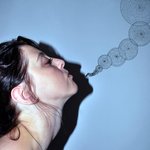 Ania Pawlik
I am a self-taught fine art drawer and illustrator. My work includes an imaginative characters full of details, body parts, also a portraiture mixed with storytelling and symbolism. The style of my work is kept in more melancholic , surrealistic and sometimes erotic atmosphere. I work with sketchbooks and also with large pieces. On a technical note I am using coffee, wine, ink, markers and fine liner. I like mixing random marks of coffee with a fine and well planed details. My recent inspirations are all earthly delights that human can explore here n Earth; drinks, food, smoke, sex and other drugs. During there 8 years living and working in England I had change to show my work on a few solo and group exhibitions in England and now in other countries of Europe like Holland, Poland and France. At the moment I am traveling around Europe with Gallery on Wheels, my and my partner's artistic traveling project, making art and experiencing all 'Earthly Delights' available in this world and filters it through my imagination on a paper. Visit my blog: http://aniapawlik.tumblr.com/ My Facebook: https://www.facebook.com/ANIA.PAWLIK.Fine.Art.Illustration My Behance: https://www.behance.net/AniaPawli Gallery on Wheels: https://www.facebook.com/GalleryOnWheels Ania Pawlik joined Society6 on June 9, 2013
More
I am a self-taught fine art drawer and illustrator. My work includes an imaginative characters full of details, body parts, also a portraiture mixed with storytelling and symbolism. The style of my work is kept in more melancholic , surrealistic and sometimes erotic atmosphere. I work with sketchbooks and also with large pieces. On a technical note I am using coffee, wine, ink, markers and fine liner. I like mixing random marks of coffee with a fine and well planed details. My recent inspirations are all earthly delights that human can explore here n Earth; drinks, food, smoke, sex and other drugs.
During there 8 years living and working in England I had change to show my work on a few solo and group exhibitions in England and now in other countries of Europe like Holland, Poland and France.
At the moment I am traveling around Europe with Gallery on Wheels, my and my partner's artistic traveling project, making art and experiencing all 'Earthly Delights' available in this world and filters it through my imagination on a paper. Visit my blog: http://aniapawlik.tumblr.com/
My Facebook: https://www.facebook.com/ANIA.PAWLIK.Fine.Art.Illustration
My Behance: https://www.behance.net/AniaPawli
Gallery on Wheels: https://www.facebook.com/GalleryOnWheels
Ania Pawlik joined Society6 on June 9, 2013.