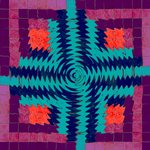 AnitaNH
AnitaNH is a collage artist, digital artist and jewelry designer from Wakefield, New Hampshire. A former librarian, she now offers jewelry kits, minerals, and old illustrated books in addition to original collage and digital prints in her bead shop and gallery. Visit her web site at https://anitanh.com for more information.
Read more
e916a4d6-97c0-4c0b-b779-15468085cd30

Popular

4196c39e-1d24-4d16-8b8f-4c2fc86465fa

Office
You are currently on society6.com.