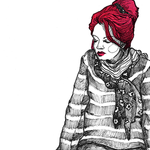 ankastan
Anna Stankevich (aka Ankastan) is a freelance illustrator with a background in interior design. She uses traditional techniques such as pens and ink to create detailed drawings that offer a unique perspective on familiar things. She lives and works in Finland. www.ankastanillustration.com http://www.facebook.com/illustration.ankastan ankastan joined Society6 on October 13, 2012
More
Anna Stankevich (aka Ankastan) is a freelance illustrator with a background in interior design. She uses traditional techniques such as pens and ink to create detailed drawings that offer a unique perspective on familiar things. She lives and works in Finland.
www.ankastanillustration.com http://www.facebook.com/illustration.ankastan
ankastan joined Society6 on October 13, 2012.
Framed Prints by ankastan
23 results
Filter