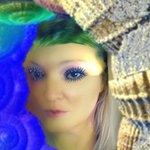 Annabellerockz
I go by my art name, Annabellerockz. I am a visual artist & Video producer from Norway. I have developed most of my skills, from using adobe programs and other photo editing software. And happy I learned to make Fractal Art. ("learning by doing".) Mostly I have been inspired through my dreams, to create various pieces of work, in relation to my dream at the time. I have been creating art, from an early age but like most had some years working hard to build a carrier, but then this need to create was fighting in me and won because I feel it is where my true spirit is so I can share my art and inspirations to all. My art work has evolved over time, through the process of trial and error. I have spent many years developing my skills. I do not tell ore comment too much about my work, because I want the viewer to have the ultimate experience, through visual entertainment.
My motto is – Creativity is to make the impossible possible. I am very happy to challenge myself and be able to learn more knowledge, in every task I encounter. I am very well known amongst my friends as being very creative and a great motivator of people. I am a very interactive and social as a person. I been working with musicians combined with my art in videos. I am a team player and love to cooperate with others in different project. For people whom are interested in my Art and services feel free to contact me. E-mail – annabelle.ringen@gmail.com
I love this Universe and like to make people feel these wonders and find some peace at heart.
Thank you very much Warm regards Annabelle
Read more