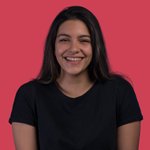 Annabelle Zouaghi
Hi guys! My name is Annabelle Zouaghi. I'm a graphic designer and illustrator based in Quebec city. I like friendly designs with a touch of authenticity. My work usually brings together round shapes, vibrant colors and handmade illustrations. //FUN FACTS - I'm 19 years old. - I come from Canada but I'm also Tunisian. - Best trip ever : Lousiana...and Sahara desert of course! //CONTACT Portfolio: annabellezouaghi.com Mail: annabelle.graphiste@gmail.com //SOCIAL MEDIA Instagram: instagram.com/annabelle.zouaghi Behance: behance.net/Annabelle_Zouaghi Annabelle Zouaghi joined Society6 on March 25, 2018
More
Hi guys! My name is Annabelle Zouaghi. I'm a graphic designer and illustrator based in Quebec city. I like friendly designs with a touch of authenticity. My work usually brings together round shapes, vibrant colors and handmade illustrations.
//FUN FACTS
I'm 19 years old.

I come from Canada but I'm also Tunisian.

Best trip ever : Lousiana...and Sahara desert of course!
//CONTACT
Portfolio: annabellezouaghi.com
Mail: annabelle.graphiste@gmail.com
//SOCIAL MEDIA
Instagram: instagram.com/annabelle.zouaghi
Behance: behance.net/Annabelle_Zouaghi
Annabelle Zouaghi joined Society6 on March 25, 2018.
Annabelle Zouaghi's Store
14 results
Filter