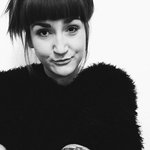 Anna Boh
Hello there, I'm Anna and I'm a 24 y/o freelance graphic designer and art director from Berlin. Thank you for visiting my shop! I hope you find something you like. ♥ Feel free to follow me: Society6: https://society6.com/annaboh Instagram: https://www.instagram.com/becomingawerewolf Facebook: https://www.facebook.com/annabohgraphicdesign Pinterest: https://de.pinterest.com/anna392 Get inspired: http://annaboh.de/ Anna Boh joined Society6 on April 14, 2016
More
Hello there,
I'm Anna and I'm a 24 y/o freelance graphic designer and art director from Berlin. Thank you for visiting my shop! I hope you find something you like. ♥
Feel free to follow me: Society6: https://society6.com/annaboh Instagram: https://www.instagram.com/becomingawerewolf Facebook: https://www.facebook.com/annabohgraphicdesign Pinterest: https://de.pinterest.com/anna392
Get inspired: http://annaboh.de/
Anna Boh joined Society6 on April 14, 2016.