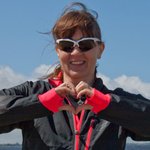 Anna-Carin Sol
I have enjoyed colour and shape from an early age, my father had his own print shop and I spent all my free time there. Many were the times when I had printing press ink from head to toe, not something my mother always approved of. ;) But I did not mind taking some heat, it was an exciting and fun environment to be in. Craft, in all forms, is something that I always have loved, but it is paper craft, painting, scribble and doodle that have become my main line of creativity. While growing up I used things close at hand e.g. newspapers, gift wrap, strings, stickers – in short, what ever I could find. I am still using a lot of scrap in my art work, and my fortune is that my family have a great patient and can withstand that I pile up "scrap". My primary source of inspiration is God, colour, shape and nature. Anna-Carin Sol joined Society6 on May 17, 2015
More
I have enjoyed colour and shape from an early age, my father had his own print shop and I spent all my free time there. Many were the times when I had printing press ink from head to toe, not something my mother always approved of. ;) But I did not mind taking some heat, it was an exciting and fun environment to be in.
Craft, in all forms, is something that I always have loved, but it is paper craft, painting, scribble and doodle that have become my main line of creativity. While growing up I used things close at hand e.g. newspapers, gift wrap, strings, stickers – in short, what ever I could find. I am still using a lot of scrap in my art work, and my fortune is that my family have a great patient and can withstand that I pile up "scrap". My primary source of inspiration is God, colour, shape and nature.
Anna-Carin Sol joined Society6 on May 17, 2015.
Anna-Carin Sol's Store
15 results
Filter