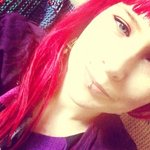 Anna Deegan
Anna is an Illustrator and pattern designer working in Dublin, Ireland. She likes to create playful patterns that are decorative, charming and full of color. Anna finds her inspiration in her love for animals, nature and everyday objects. Follow me here! https://www.facebook.com/annadeeganillustration http://www.behance.net/annadeegan http://pinterest.com/vfringe/ Portfolio http://annadeegan.com/ Instagram http://instagram.com/annadeegan/ Anna Deegan joined Society6 on January 2, 2011
More
Anna is an Illustrator and pattern designer working in Dublin, Ireland. She likes to create playful patterns that are decorative, charming and full of color. Anna finds her inspiration in her love for animals, nature and everyday objects.
Follow me here! https://www.facebook.com/annadeeganillustration http://www.behance.net/annadeegan http://pinterest.com/vfringe/
Portfolio http://annadeegan.com/
Instagram http://instagram.com/annadeegan/
Anna Deegan joined Society6 on January 2, 2011.
Laptop Skins 13" PC Laptop (12.4" x 8.5") by Anna Deegan
0 results
Filter
Model

13" PC Laptop (12.4" x 8.5")