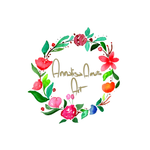 AnnalisaAmatoArt
Behind each drawing, there is a story. Every drawing comes from an emotion, a feeling that I express with them. From what I take inspiration? From what surrounds me, I was always a person who imagines seeing a cloud and seeing its beauty, seeing a person and imagine where they are going, what they are doing, thinking, seeing a tree, a flower, I see their magic.
Follow me on Instagram or Facebook @annalisaamatoart
annalisaamatoart
Read more
AnnalisaAmatoArt's Store
Filter
You are currently on society6.com.