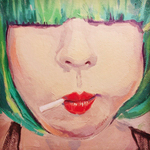 Anna Rewinska
AR is a London based creative whose artwork is a visual expression of the energy and texture enclosed in the underground electronic music scene. The ideas embedded in AR's artwork form a never-ending search for narratives that ask questions but do not give answers. Narratives that revolve around the subject of (im)possible irony. Music being the main source of inspiration results in a variety of concepts created in the environment of a studio such as illustration and canvases that usually form the basis for murals painted freehand and also whole range of stencil work both outdoors and on vinyl plates. www.annarewinska.com Anna Rewinska joined Society6 on July 19, 2014
More
AR is a London based creative whose artwork is a visual expression of the energy and texture enclosed in the underground electronic music scene. The ideas embedded in AR's artwork form a never-ending search for narratives that ask questions but do not give answers. Narratives that revolve around the subject of (im)possible irony.
Music being the main source of inspiration results in a variety of concepts created in the environment of a studio such as illustration and canvases that usually form the basis for murals painted freehand and also whole range of stencil work both outdoors and on vinyl plates.
www.annarewinska.com
Anna Rewinska joined Society6 on July 19, 2014.