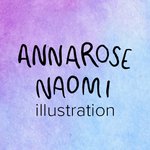 Annarose Illutrates
Hi there! I'm a 26-year-old half-Indian, half-British illustrator living in Cardiff, UK. I illustrate stuff about feeling like a weirdo, having anxiety and depression, my silly sense of humour, and my love of animals and nature. Jewel and pastel colours, natural textures, hand-lettering, and patterns are my jam. I love making things, travelling, trying new food, learning, and exploring with my dog Lola. Feel free to send me an e-mail: annarosenaomi@gmail.com Or find me elsewhere: annarosenaomi.com etsy.com/shop/annarosenaomi instagram.com/annarosenaomi facebook.com/annarosenaomi Annarose Illutrates joined Society6 on February 6, 2015
More
Hi there! I'm a 26-year-old half-Indian, half-British illustrator living in Cardiff, UK. I illustrate stuff about feeling like a weirdo, having anxiety and depression, my silly sense of humour, and my love of animals and nature.
Jewel and pastel colours, natural textures, hand-lettering, and patterns are my jam.
I love making things, travelling, trying new food, learning, and exploring with my dog Lola.
Feel free to send me an e-mail: annarosenaomi@gmail.com
Or find me elsewhere:
annarosenaomi.com etsy.com/shop/annarosenaomi instagram.com/annarosenaomi facebook.com/annarosenaomi
Annarose Illutrates joined Society6 on February 6, 2015.