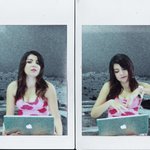 AnnaSainz
Self taught photographer, writer, manipulation artist and Graphic Design Student Freelance Graphic Designer and Photographer for about 10 years. I am mostly experimental with a passionate bond between background stories and psychological material. I sell stories behind every image, not just random designs without any foundation. My goal is to convey the magic of wearing something unique and the feeling of standing out with all kind of crazy designs. These products are only available for creative people. Feel free to be different. AnnaSainz joined Society6 on September 12, 2014
More
Self taught photographer, writer, manipulation artist and Graphic Design Student Freelance Graphic Designer and Photographer for about 10 years.
I am mostly experimental with a passionate bond between background stories and psychological material.
I sell stories behind every image, not just random designs without any foundation. My goal is to convey the magic of wearing something unique and the feeling of standing out with all kind of crazy designs.
These products are only available for creative people. Feel free to be different.
AnnaSainz joined Society6 on September 12, 2014.