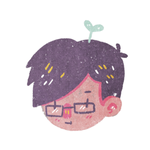 Ann Macarayan
Ann Macarayan is a current illustration student at the Minneapolis College of Art and Design. Originally from Hawaii, she has a deep love for tiny plants, warm weather, and green tea flavored anything. For more, you can check out my blog: annmakes.tumblr.com Ann Macarayan joined Society6 on January 9, 2013
More
Ann Macarayan is a current illustration student at the Minneapolis College of Art and Design. Originally from Hawaii, she has a deep love for tiny plants, warm weather, and green tea flavored anything.
For more, you can check out my blog: annmakes.tumblr.com
Ann Macarayan joined Society6 on January 9, 2013.
Prints by Ann Macarayan
3 result
Filter