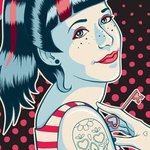 Anne Cobai
Anne Cobai is a graphic designer and illustrator from Australia. She is passionate about music so her work reflects this love as well as her fascination with colour and popular culture. Her illustration work is characterised by bold and colourful images with a high attention to detail. Anne draws inspiration from a vast array of influences, including contemporary music, tattoo culture, vintage pin-ups, iconography and Renaissance art. When creating her illustrations, Anne prefers to work digitally, using the vector medium to create bold images with maximum impact. Website http://annecobai.com Blog http://annecobai.blogspot.com/ Facebook https://www.facebook.com/AnneCobaiDesign Instagram http://instagram.com/annecobai Anne Cobai joined Society6 on April 29, 2010
More
Anne Cobai is a graphic designer and illustrator from Australia. She is passionate about music so her work reflects this love as well as her fascination with colour and popular culture. Her illustration work is characterised by bold and colourful images with a high attention to detail. Anne draws inspiration from a vast array of influences, including contemporary music, tattoo culture, vintage pin-ups, iconography and Renaissance art. When creating her illustrations, Anne prefers to work digitally, using the vector medium to create bold images with maximum impact.
Website http://annecobai.com Blog http://annecobai.blogspot.com/ Facebook https://www.facebook.com/AnneCobaiDesign Instagram http://instagram.com/annecobai
Anne Cobai joined Society6 on April 29, 2010.
Bags by Anne Cobai
7 results
Filter