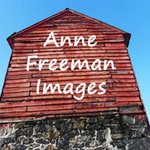 Anne Freeman Images
If I were to describe my photography in a phrase, it would be "a slow walk down a country road." Old barns and outbuildings, farms and landscapes intrigue. I also delight in discovering little things along the way: a wildflower, a butterfly, a funny mail box, a farm stand sign. By slowing down, there is time to notice … a detail emerges, making the everyday magical. My hope is that you will not only enjoy my photographs, but will also begin to notice what is all around you if you give yourself the chance to see. All of my photographs are of the outdoors. The sun and fresh air, combined with that sense of adventure when I start out on a road trip … what will I find today? It's a link to childhood and that feeling of excitement! When I sit at my computer to review the images, they make me smile. Do you feel that, too? My photo prints will work well in traditional, country, colonial, shabby chic, cottage chic, rustic, eclectic, and farmhouse interior designs, as well as "man caves" and, interestingly, stark urban interiors – especially the barns. Take some time to explore the galleries to find what reaches out to you and your sense of style. Color and texture are most important to me, and I employ very limited software techniques in order to bring out an image's texture and ensure the colors are true. I like flattened color planes and heavy outlines, being influenced by antique Asian art as well as the impressionists. My photography reflects the four seasons of the Northeastern United States, as there is interest and beauty in them all. I live in an area that still retains much of its agricultural heritage, and that is heavily reflected in my subject matter. In addition, and due to the annual family trek to the beach, I also have a series of brightly colored digital art that captures the colors and movement of the shore, which is very different from my photography. But, we all must embrace our yin and yang! I welcome your comments and reactions to my work. And, I hope you are touched is some way by it. ~ Anne Anne Freeman Images joined Society6 on December 7, 2014
More
If I were to describe my photography in a phrase, it would be "a slow walk down a country road." Old barns and outbuildings, farms and landscapes intrigue. I also delight in discovering little things along the way: a wildflower, a butterfly, a funny mail box, a farm stand sign. By slowing down, there is time to notice … a detail emerges, making the everyday magical. My hope is that you will not only enjoy my photographs, but will also begin to notice what is all around you if you give yourself the chance to see.
All of my photographs are of the outdoors. The sun and fresh air, combined with that sense of adventure when I start out on a road trip … what will I find today? It's a link to childhood and that feeling of excitement! When I sit at my computer to review the images, they make me smile. Do you feel that, too?
My photo prints will work well in traditional, country, colonial, shabby chic, cottage chic, rustic, eclectic, and farmhouse interior designs, as well as "man caves" and, interestingly, stark urban interiors – especially the barns. Take some time to explore the galleries to find what reaches out to you and your sense of style.
Color and texture are most important to me, and I employ very limited software techniques in order to bring out an image's texture and ensure the colors are true. I like flattened color planes and heavy outlines, being influenced by antique Asian art as well as the impressionists.
My photography reflects the four seasons of the Northeastern United States, as there is interest and beauty in them all. I live in an area that still retains much of its agricultural heritage, and that is heavily reflected in my subject matter. In addition, and due to the annual family trek to the beach, I also have a series of brightly colored digital art that captures the colors and movement of the shore, which is very different from my photography. But, we all must embrace our yin and yang!
I welcome your comments and reactions to my work. And, I hope you are touched is some way by it.
~ Anne
Anne Freeman Images joined Society6 on December 7, 2014.