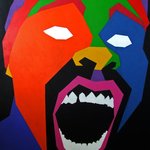 Annemiek Boonstra
My passion is painting and drawing. Since 3 years I study Drawing & Painting and Art & Design at Crejat Academy in Alkmaar, Netherlands. Since when I was little I've been drawing and painting. In elementary school my favorite schoolsubject was crafts and drawing. Even in high school I found this the most interesting subjects. After the high school exams in 2003, I went to the Media College in Amsterdam to study graphics design. After graduating in 2006 I decided that Art Academy was'nt right for me. I decided to study for teacher at the IPABO in Amsterdam. In 2010 I graduated and started working as a teacher. Still, I missed the drawing and painting. Right after my studies I started the two-year course Drawing & Painting at Crejat Academy in Alkmaar. I was 24 years old. Here I learned a lot about all the basic techniques and looking at art. In 2012 I completed that training. I wanted more ... I started the new training of Crejat: Art & Design, drawing and painting . This year they brought me into the world of the artist. I have learned to see through the eyes of artists in various art movements . I also got my first painting assignment! After a busy and instructive year we have now arrived in 2013. This year of Crejat we ended with an exhibition in a church in Stompetoren. In this coming year, I want me to develop as an artist; What is my style? What is my identity? Where do I stand for? What do I want to tell the world? How can I improve? This years is going to be about discovering the artist in me under the guidance of Crejat Academy. I 'm excited ! Annemiek Boonstra joined Society6 on September 23, 2013
More
My passion is painting and drawing. Since 3 years I study Drawing & Painting and Art & Design at Crejat Academy in Alkmaar, Netherlands.
Since when I was little I've been drawing and painting. In elementary school my favorite schoolsubject was crafts and drawing.
Even in high school I found this the most interesting subjects. After the high school exams in 2003, I went to the Media College in Amsterdam to study graphics design.
After graduating in 2006 I decided that Art Academy was'nt right for me. I decided to study for teacher at the IPABO in Amsterdam. In 2010 I graduated and started working as a teacher. Still, I missed the drawing and painting.
Right after my studies I started the two-year course Drawing & Painting at Crejat Academy in Alkmaar. I was 24 years old. Here I learned a lot about all the basic techniques and looking at art. In 2012 I completed that training. I wanted more ...
I started the new training of Crejat: Art & Design, drawing and painting . This year they brought me into the world of the artist. I have learned to see through the eyes of artists in various art movements . I also got my first painting assignment! After a busy and instructive year we have now arrived in 2013. This year of Crejat we ended with an exhibition in a church in Stompetoren.
In this coming year, I want me to develop as an artist; What is my style? What is my identity? Where do I stand for? What do I want to tell the world? How can I improve? This years is going to be about discovering the artist in me under the guidance of Crejat Academy.
I 'm excited !
Annemiek Boonstra joined Society6 on September 23, 2013.