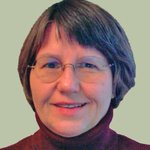 Anne Millbrooke
Nature is my inspiration, and the evidence of human activity is part of that. My photographs have been used in newspapers, magazines, campaign literature, and advertisements; for example, my photo "Northabout in Winter Quarters, Nome, Alaska," appeared in an annual of the Irish Cruising Club. A couple of my photos were Parade Snapshot Editors Picks. I have annually judged a London-based photography contest since 2007. I in Montana judge photographs made digitally available for judging. There were 96 finalists to be judged in the 2014 contest. My designs explore nature in less literal ways than my photographs. Raised on the west coast, I went east to college: to Boise State in Idaho for the Bachelor's degree, to the University of Wisconsin at Madison for a Master's, and to University of Pennsylvania in Philadelphia for my Doctorate. I have taught in Connecticut, Alaska, and Montana, and worldwide via online classes. I currently work and create in Montana. *All images on this web site are fully protected by U.S. and international copyright laws © Anne Millbrooke. Images may not be copied, reproduced, downloaded, or manipulated in any way without written permission from Anne Millbrooke. Anne Millbrooke joined Society6 on September 12, 2014
More
Nature is my inspiration, and the evidence of human activity is part of that.

My photographs have been used in newspapers, magazines, campaign literature, and advertisements; for example, my photo "Northabout in Winter Quarters, Nome, Alaska," appeared in an annual of the Irish Cruising Club. A couple of my photos were Parade Snapshot Editors Picks.

I have annually judged a London-based photography contest since 2007. I in Montana judge photographs made digitally available for judging. There were 96 finalists to be judged in the 2014 contest.

My designs explore nature in less literal ways than my photographs. 

Raised on the west coast, I went east to college: to Boise State in Idaho for the Bachelor's degree, to the University of Wisconsin at Madison for a Master's, and to University of Pennsylvania in Philadelphia for my Doctorate. I have taught in Connecticut, Alaska, and Montana, and worldwide via online classes. I currently work and create in Montana.

*All images on this web site are fully protected by U.S. and international copyright laws © Anne Millbrooke. Images may not be copied, reproduced, downloaded, or manipulated in any way without written permission from Anne Millbrooke.
Anne Millbrooke joined Society6 on September 12, 2014.