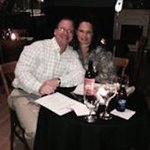 Annette Forlenza
Hi my name is Annette Doreen and I was self taught by watching Ross the sweet man that has the soft voice and the little videos on (U TUBE) I would like to be a part of the wonderful world of art. I hope all of you would accept me as one of the Great artists that I have had the pleasure to see on this site. I hope you like my paintings and Photos. When I was young and growing up, I always loved to draw. This cleared my head of the many problems in my life. The art would take me away from the problems and into another 'World'. My family was constantly putting me down by telling me I could not do things right or laugh at me When this happened, My self esteem and confidence went right down the drain. Being that I was adopted, I was feeling so alone at this time. The things I was put through ( which I'd rather not speak about) were truly things that I would not wish upon anyone. It was then that I had gotten into painting.Putting the brush on the canvas made me forget and let me live again. Being able to put my feelings on canvas is my own little 'Escape'. Being an artist makes me forget all of lifes frustrations and hurt that I had, which is why I fell in love with painting. Today, Thanks to my husband and my Older sister giving me all the support and confidence that I need, I am now living a happy,enjoyable life and it feels really good. and I would like to say to people that have problems please find something that you Like and can put your mind on and it will help forget and you will feel better about your self , Knowing that one of my paintings are hanging in clients homes truly makes me feel so positive and confident in my new 'LIFE'. THANK YOU SO MUCH TO ALL FOR YOUR COMMENTS AND SUPPORT! Annette Forlenza joined Society6 on February 21, 2016
More
Hi my name is Annette Doreen and I was self taught by watching Ross the sweet man that has the soft voice and the little videos on (U TUBE) I would like to be a part of the wonderful world of art. I hope all of you would accept me as one of the Great artists that I have had the pleasure to see on this site. I hope you like my paintings and Photos. When I was young and growing up, I always loved to draw. This cleared my head of the many problems in my life. The art would take me away from the problems and into another 'World'. My family was constantly putting me down by telling me I could not do things right or laugh at me When this happened, My self esteem and confidence went right down the drain. Being that I was adopted, I was feeling so alone at this time. The things I was put through ( which I'd rather not speak about) were truly things that I would not wish upon anyone.
It was then that I had gotten into painting.Putting the brush on the canvas made me forget and let me live again. Being able to put my feelings on canvas is my own little 'Escape'. Being an artist makes me forget all of lifes frustrations and hurt that I had, which is why I fell in love with painting. Today, Thanks to my husband and my Older sister giving me all the support and confidence that I need, I am now living a happy,enjoyable life and it feels really good. and I would like to say to people that have problems please find something that you Like and can put your mind on and it will help forget and you will feel better about your self , Knowing that one of my paintings are hanging in clients homes truly makes me feel so positive and confident in my new 'LIFE'. THANK YOU SO MUCH TO ALL FOR YOUR COMMENTS AND SUPPORT!
Annette Forlenza joined Society6 on February 21, 2016.