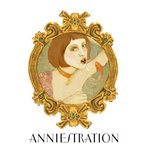 Anniestration
About Anniestration
Hi my name is Anna . I am an illustrator and animator from Loughborough University (BA Hons illustration with Animation) 2012.
I am a designer and digital painter who likes to play around with all sorts of things! Most of my work is digital and I love to create characters :) !
Aside from work I love killing zombies, dining out with friends and networking. I also like drawing comical sketches from my dreams, as I am a very lucid dreamer, which is great for the imagination! I also love it when the weather is sunny, on this kind of day there's nothing better than sitting outside drawing in the garden with a glass of Pimms !
Hope you like what I post and please share my page with everyone !! :)
You can also find my website here :
www.anniestration.tumblr.com
or
www.annabrown.moonfruit.com
Find me on twitter @anna_brOwn
Anniestration joined Society6 on July 10, 2012.