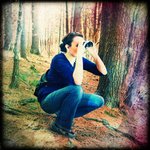 Annie Stuart
Artist, gardener, hoarder of vintage oddities. Grew up in the woods. I like tea, i talk to animals. I like history and I collect rocks. I love storytelling, and the pictures that flow along with a good tale. I make jewelry, I write, I draw, read, paint, sculpt. I need to go outside more. Annie Stuart joined Society6 on February 25, 2013
More
Artist, gardener, hoarder of vintage oddities.
Grew up in the woods. I like tea, i talk to animals.
I like history and I collect rocks.
I love storytelling, and the pictures that flow along with a good tale.
I make jewelry, I write, I draw, read, paint, sculpt.
I need to go outside more.
Annie Stuart joined Society6 on February 25, 2013.
Annie Stuart's Store
13 results
Filter