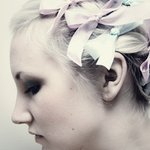 Annika Bäckström
25 YEAR OLD ART DIRECTOR AND ILLUSTRATOR With hands getting tired when not creating, I grew up with northern lights and the midnight sun in the northern parts of Sweden. Spending the nights cutting paper, writing novels, drawing stories, painting houses, making movies, making mittens, making clothes and dream. Annika Bäckström joined Society6 on April 10, 2009
More
25 YEAR OLD ART DIRECTOR AND ILLUSTRATOR
With hands getting tired when not creating, I grew up with northern lights and the midnight sun in the northern parts of Sweden. Spending the nights cutting paper, writing novels, drawing stories, painting houses, making movies, making mittens, making clothes and dream.
Annika Bäckström joined Society6 on April 10, 2009.