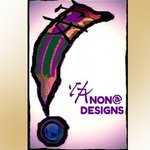 Anona Designs
We started out making designs for birthday invitations and business cards,reunion t shirts designs, then birthday greetings which were posted and shared on social sites. Then included photo editing and photo enhancement services. Later, we have included caricatures and a lot more graphic design related projects. We are the one you're looking for. Providers of almost anything you need assistance when it comes to designs and anything related to it. We make designs that would help you communicate just what you have in mind. We believe that two heads are better than one, the more heads the best. We'd be happy to interact with our clients and allow them to have their own personal ideas and touch on the designs. We collaborate and illustrate the ideas together for better results and for better customer service. Anona Designs joined Society6 on March 19, 2014
More
  We started out making designs for birthday invitations and business cards,reunion t shirts designs,  then birthday greetings which were posted and shared on social sites. Then included photo editing and photo enhancement services. Later, we have included caricatures and a lot more graphic design related projects.

We are the one you're looking for. Providers of almost anything you need assistance when it comes to designs and anything related to it. We make designs that would help you communicate just what you have in mind.
  We believe that two heads are better than one, the more heads the best. We'd be happy to interact with our clients and allow them to have their own personal ideas and touch on the designs. We collaborate and illustrate the ideas together for better results and for better customer service.

Anona Designs joined Society6 on March 19, 2014.