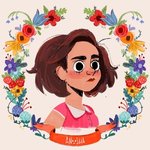 Anoosha Syed
Hi, my name is Anoosha! I'm a Canadian illustrator and currently a character designer at Industrial Brothers. I draw inspiration from mid-century art, animation, space, forests, kawaii fashion and vintage children books. I am always looking for new projects and creative opportunities, so feel free to contact me! You can find my portfolio at www.anooshasyed.com Anoosha Syed joined Society6 on February 24, 2013
More
Hi, my name is Anoosha! I'm a Canadian illustrator and currently a character designer at Industrial Brothers.
I draw inspiration from mid-century art, animation, space, forests, kawaii fashion and vintage children books.
I am always looking for new projects and creative opportunities, so feel free to contact me!
You can find my portfolio at www.anooshasyed.com
Anoosha Syed joined Society6 on February 24, 2013.