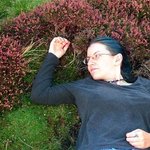 Ansate Jones
All art all the time. But especially photography, painting, design, portraiture, illustration, and the Oxford comma. Indefinitely open for commissions. Please let me draw you like one of your French fries. Check out more work and pricing options at my full site: http://ansatejones.com Ansate Jones joined Society6 on March 3, 2013
More
All art all the time. But especially photography, painting, design, portraiture, illustration, and the Oxford comma.
Indefinitely open for commissions. Please let me draw you like one of your French fries.
Check out more work and pricing options at my full site: http://ansatejones.com
Ansate Jones joined Society6 on March 3, 2013.