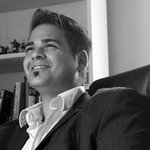 Anthony Christou
www.achristouillustration.com Anthony Christou is an Australian concept artist, illustrator that has been working freelance in his studio "A Christou Illustration and Concept Art" over the last 5 years. He started his career as a graphic designer but made the shift to conceptual and illustrative arts in 2008. He has a great love for films, graphic novels, fine art and video games. He loves to paint and create fantasy and science fiction illustration, paintings and concept art for his own expression and his clients. Anthony loves to create concept art and illustration for just about any industry and loves the challenge of working with new and interesting projects. Anthony has worked for a variety of clients both nationally and internationally. This includes working with, video game studios, film studios, publishers, authors, advertising agencies and Animation Studios. Recently, Conceptart.org CGHUB and The Gnomon Workshop have awarded Anthony for his environment concepts and illustrations. Anthony Christou joined Society6 on September 7, 2013
More
www.achristouillustration.com
Anthony Christou is an Australian concept artist, illustrator that has been working freelance in his studio "A Christou Illustration and Concept Art" over the last 5 years. He started his career as a graphic designer but made the shift to conceptual and illustrative arts in 2008. He has a great love for films, graphic novels, fine art and video games. He loves to paint and create fantasy and science fiction illustration, paintings and concept art for his own expression and his clients. Anthony loves to create concept art and illustration for just about any industry and loves the challenge of working with new and interesting projects.
Anthony has worked for a variety of clients both nationally and internationally. This includes working with, video game studios, film studios, publishers, authors, advertising agencies and Animation Studios. Recently, Conceptart.org CGHUB and The Gnomon Workshop have awarded Anthony for his environment concepts and illustrations.
Anthony Christou joined Society6 on September 7, 2013.
Anthony Christou's Store
132 results
Filter