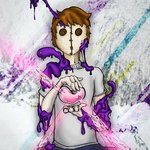 Anthony Smyers
Growing up in Albany, New York, this east coast native moved in 2003 to his current home in Southern California where he could live with no snow and easy access to the Ocean.
Anthony was raised by his mother who exuded the arts. Having gone to school for fine art herself, she constantly supported his drawing, painting, craft making and fed his creative side. Being thoroughly interested in design and computers, out of high school Anthony explored the route of graphic design which he learned a lot of the techniques and skills that he currently uses and expands on in his work.
Anthony's work is formed by many different facets: emotions, society, personas, inanimate objects, mythology, religion and fantasy just to name a few. Transfer all of this into hand drawn illustrations which make their way into the computer for their final stages of coloring and texturizing using real images, you then have his work at current.
Recently in May, 2012, Anthony was one of the showcasing artists at The Blend: An art showcase in downtown Long Beach, CA. This was a great opportunity for him as his career starts to roll forward with great momentum.
As he grows along with the people and environment around him, his work is ever changing and growing in different directions that glimpse at people's inner thoughts, dreams and demons.
Read more
Anthony Smyers's Store
Filter