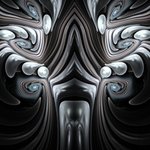 Anti
Fractal artist, philosopher, hairdresser to the stars, compulsive liar. The philosophy behind my art is quite simple, I believe in creating art that is pure and pleasing to my eye. I work using Linux Mint as my only OS, GIMP, Apophysis and any other open source software I find. Hi my real name is John. I have been unemployed since 1988 due to illness, which gave me the fantastic opportunity of being a stay at home Dad to my four sons. I consider myself very lucky to have had so much time with my children, to me the unconditional love shared with them is the only thing in life with any true value. Increasingly I find myself with more time to do the things I enjoy, so I now want to explore my artistic side more thoroughly and enjoy the therapeutic benefits of art. Feedback on my art is always welcome. Anti joined Society6 on August 25, 2014
More
Fractal artist, philosopher, hairdresser to the stars, compulsive liar.
The philosophy behind my art is quite simple, I believe in creating art that is pure and pleasing to my eye.
I work using Linux Mint as my only OS, GIMP, Apophysis and any other open source software I find.
Hi my real name is John.
I have been unemployed since 1988 due to illness, which gave me the fantastic opportunity of being a stay at home Dad to my four sons. I consider myself very lucky to have had so much time with my children, to me the unconditional love shared with them is the only thing in life with any true value.
Increasingly I find myself with more time to do the things I enjoy, so I now want to explore my artistic side more thoroughly and enjoy the therapeutic benefits of art.
Feedback on my art is always welcome.
Anti joined Society6 on August 25, 2014.