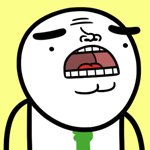 Stephen Gillan
My real name is Stephen Gillan (p.s. please don't steal my identity). I 'm a 25 year old guy living in Dunedin, New Zealand!
I work as a filing clerk for a day job, which is pretty cool I guess.
I make comics because I find it relaxing, and because it is far easier than learning how to draw realistically!
My comics can be read online at www.anticscomic.com
Read more
Stephen Gillan's Store
Filter
You are currently on society6.com.