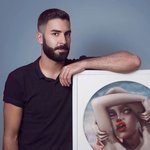 Antonio Lorente
My name is Antonio Lorente, I was born in Almeria a city located in the south of Spain. From a young age my passion for art made me realized that this was the path that I was born to follow. My true interest lies in illustrations and my work has been recognized in various magazines and books in Spain. For the past two years I have been living in London, and embracing the city's vibrant culture, full of diversity and innovation. London's leading-edge arts scene is where I have been developing my career and establishing myself as an illustrator. Antonio Lorente joined Society6 on January 30, 2014
More
My name is Antonio Lorente, I was born in Almeria a city located in the south of Spain. From a young age my passion for art made me realized that this was the path that I was born to follow. My true interest lies in illustrations and my work has been recognized in various magazines and books in Spain.
For the past two years I have been living in London, and embracing the city's vibrant culture, full of diversity and innovation. London's leading-edge arts scene is where I have been developing my career and establishing myself as an illustrator.
Antonio Lorente joined Society6 on January 30, 2014.