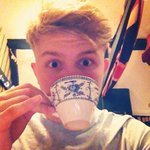 Antony Stephenson
Hi, my name is Antony. Hope you enjoy viewing my drawings and much as I enjoy creating them. I am currently an illustration student from Coventry. I live in Norwich at the moment, whilst studying at Norwich University of the Arts. I love drawing and this has always been a huge part of my life – not sure if I would call it a passion, it just is something I seem to do ALL the time. I specialise in detailed pen and ink drawings, so you'll see a lot of that here. All my work starts by drawing by hand and I have carefully created all of the designs you will find here! I began to share my drawings on my personal Facebook and Instagram pages as a way to keep me motivated, and people started to ask if they could buy them. (I was as surprised as anyone.) So I made this shop to sell my illustrated prints. Thanks for visiting my shop! You're always welcome and don't hesitate to contact me in case of any questions! Be sure to follow me! Instagram: http://instagram.com/antonyxd Facebook: http://www.facebook.com/antony.illustration Tumblr: https://www.tumblr.com/antonystephenson Antony Antony Stephenson joined Society6 on July 12, 2014
More
Hi, my name is Antony. Hope you enjoy viewing my drawings and much as I enjoy creating them.
I am currently an illustration student from Coventry. I live in Norwich at the moment, whilst studying at Norwich University of the Arts.
I love drawing and this has always been a huge part of my life – not sure if I would call it a passion, it just is something I seem to do ALL the time. I specialise in detailed pen and ink drawings, so you'll see a lot of that here.
All my work starts by drawing by hand and I have carefully created all of the designs you will find here!
I began to share my drawings on my personal Facebook and Instagram pages as a way to keep me motivated, and people started to ask if they could buy them. (I was as surprised as anyone.) So I made this shop to sell my illustrated prints.
Thanks for visiting my shop! You're always welcome and don't hesitate to contact me in case of any questions!
Be sure to follow me! Instagram: http://instagram.com/antonyxd Facebook: http://www.facebook.com/antony.illustration Tumblr: https://www.tumblr.com/antonystephenson
Antony
Antony Stephenson joined Society6 on July 12, 2014.
Antony Stephenson's Store
3 results
Filter