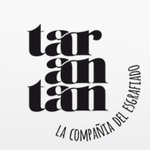 Tarantán
Tarantán es una marca creada para promover productos de diseño muy especiales: Todos los diseños están basados en esgrafiados: los esgrafiados son grafismos creados a partir de plantillas repetidas que decoran frisos y muros y permanecen en las paredes desde hace algunos siglos en la ciudad de Segovia, España. También se dan en otras ciudades de España, y en algunas otras ciudades europeas. Pero la concentración de esgrafiados que se da en mi provincia no se dan en ninguna otra parte y son dignos de estudio y de admiración. Tarantán pretende hacer un homenaje a este aspecto de origen tan segoviano. No es casualidad que también yo soy segoviana y esta es una manera de rendir tributo a mi tierra y mis orígenes. Durante toda mi vida me he dedicado al diseño gráfico y publicitario y estoy muy contenta de poder crear mi propia línea de productos de esta manera. En fin, espero que os gusten tanto como a mí. Por último, os animo a visitar Segovia para comprobar la belleza de esta cultura arquitectónica. Aunque lo principal sea ver su magnífico acueducto romano, sus orígenes árabes y sus viejas y encantadoras calles medievales. Design inspired by one of the many graffiti covering an architectural gem of s . XV in Segovia. Tarantán is a brand created to promote products of very special design : All designs are based on graffiti : sgraffito are graphics created from repeated templates that decorate friezes and walls and remain on the walls for a few centuries ago in the city of Segovia , Spain . There are also other cities in Spain , and in some other European cities. But the concentration of graffiti occurring in my province not given elsewhere and are worthy of study and admiration. Tarantán intended to pay tribute to this aspect as segoviano origin. It is no coincidence that I too am Segovia and this is a way of paying tribute to my country and my roots . Throughout my life I have dedicated to graphic design and advertising and I'm very happy to create my own line of products in this way . Anyway, I hope you like it as much as me . Finally , I encourage you to visit Segovia ( Spain ) to see the beauty of this architectural culture . Although the main thing is to see its magnificent Roman aqueduct, its Arab origins and its old and picturesque medieval streets. https://www.facebook.com/Tarantan Tarantán joined Society6 on March 18, 2013
More
Tarantán es una marca creada para promover productos de diseño muy especiales: Todos los diseños están basados en esgrafiados: los esgrafiados son grafismos creados a partir de plantillas repetidas que decoran frisos y muros y permanecen en las paredes desde hace algunos siglos en la ciudad de Segovia, España. También se dan en otras ciudades de España, y en algunas otras ciudades europeas. Pero la concentración de esgrafiados que se da en mi provincia no se dan en ninguna otra parte y son dignos de estudio y de admiración. Tarantán pretende hacer un homenaje a este aspecto de origen tan segoviano. No es casualidad que también yo soy segoviana y esta es una manera de rendir tributo a mi tierra y mis orígenes. Durante toda mi vida me he dedicado al diseño gráfico y publicitario y estoy muy contenta de poder crear mi propia línea de productos de esta manera. En fin, espero que os gusten tanto como a mí.
Por último, os animo a visitar Segovia para comprobar la belleza de esta cultura arquitectónica. Aunque lo principal sea ver su magnífico acueducto romano, sus orígenes árabes y sus viejas y encantadoras calles medievales.
Design inspired by one of the many graffiti covering an architectural gem of s . XV in Segovia.
Tarantán is a brand created to promote products of very special design : All designs are based on graffiti : sgraffito are graphics created from repeated templates that decorate friezes and walls and remain on the walls for a few centuries ago in the city of Segovia , Spain . There are also other cities in Spain , and in some other European cities. But the concentration of graffiti occurring in my province not given elsewhere and are worthy of study and admiration.
Tarantán intended to pay tribute to this aspect as segoviano origin. It is no coincidence that I too am Segovia and this is a way of paying tribute to my country and my roots . Throughout my life I have dedicated to graphic design and advertising and I'm very happy to create my own line of products in this way . Anyway, I hope you like it as much as me .
Finally , I encourage you to visit Segovia ( Spain ) to see the beauty of this architectural culture . Although the main thing is to see its magnificent Roman aqueduct, its Arab origins and its old and picturesque medieval streets.
https://www.facebook.com/Tarantan
Tarantán joined Society6 on March 18, 2013.