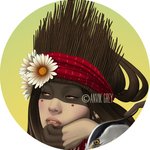 ANVIK
Anvik Grey: Illustrator. Fine arts. Digital artist & Dreamer. I like to create illustrations and patterns about things i love. Always I find beauty in nature, so it appears frequently at my creations and inspires me constantly. I hope you like my work! Thanks for watching. 😉✨🌷🌸 You can get in touch with me here: anvikgrey@hotmail.com ANVIK joined Society6 on August 5, 2016
More
Anvik Grey: Illustrator. Fine arts. Digital artist & Dreamer.
I like to create illustrations and patterns about things i love.
Always I find beauty in nature, so it appears frequently at my creations and inspires me constantly.
I hope you like my work! Thanks for watching.
   😉✨🌷🌸

You can get in touch with me here: anvikgrey@hotmail.com
ANVIK joined Society6 on August 5, 2016.