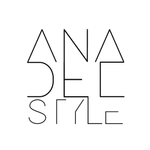 Anya Dee
Embrace Your weirdness!
My work in progress and the newest works are on my IG page: http://www.instagram.com/anadeestyle
Welcome to ANADEESTYLE® Whimsical fashion illustration, portraits of models and stylish patterns are waiting for you to be seen and admired! Anya's work has been featured in Vogue Russia, seen and mentioned by Master John Galliano himself along with great designers such as Dolce & Gabbana and Valentino. Anya works worldwide with different fashion brands and her works are often seen on the backstage of fashion weeks.
When you buy one of our products, do remember to either email us a picture of them or post it on Instagram with tag #anadeestyle to receive exciting exclusive discount coupons!
Do visit us at https://anadeestyle.com
Read more