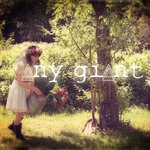 any giant
any giant is a german freelance illustrator, living and working in the impressive countryside of scandinavia. she uses a combination of analog and digital techniques to depict dreamy characters in surrealistic surroundings. with her glowing love for nature she has a focus on the same old question: what moves us? http://anygiant.com/ any giant joined Society6 on July 30, 2013
More
any giant is a german freelance illustrator, living and working in the impressive countryside of scandinavia. she uses a combination of analog and digital techniques to depict dreamy characters in surrealistic surroundings. with her glowing love for nature she has a focus on the same old question: what moves us?
http://anygiant.com/
any giant joined Society6 on July 30, 2013.