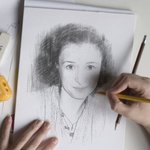 Anna Yudina
I'm a freelance illustrator living in Italy.
I enjoy painting and with each new work I'm learning all over again.
I often experiment with watercolor and watch its magic and I like digital painting in Adobe Illustrator.
I love creating complex patterns, funny characters, and flowers.
I love nature, it inspires me endlessly. I also love the sea, traveling and good books.
If you want me to draw something for you, please contact me by e-mail an.yudina22@gmail.com
https://www.facebook.com/anyudinaillustratore
Read more