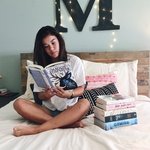 Madeline @ A Paper Reverie
hi there! i'm madeline. i'm a book blogger at a paper reverie (http://apaperreverie.blogspot.com), an avid reader of fantasy and magical realism, and a lover of beautiful words and book aesthetics alike. hope that you find something you love! links http://instagram.com/apaperreverie http://bloglovin.com/@apaperreverie http://twitter.com/apaperreverie http://pinterest.com/apapereverie http://goodreads.com/apaperreverie Madeline @ A Paper Reverie joined Society6 on August 16, 2017
More
hi there! i'm madeline. i'm a book blogger at a paper reverie (http://apaperreverie.blogspot.com), an avid reader of fantasy and magical realism, and a lover of beautiful words and book aesthetics alike. hope that you find something you love!
links http://instagram.com/apaperreverie http://bloglovin.com/@apaperreverie http://twitter.com/apaperreverie http://pinterest.com/apapereverie http://goodreads.com/apaperreverie
Madeline @ A Paper Reverie joined Society6 on August 16, 2017.
Madeline @ A Paper Reverie's Store
198 results
Filter