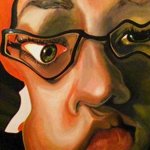 AParry
Hello! I'm a production designer and illustrator based in the UK. Thank you for taking the time to look at my designs. If you would like to know anything about me or my work, or you have a design you would like to commission, please feel free to contact me. To view my other work please visit: http://aparry.wix.com/portfolio Copyright © 2011-2013 Annette Parry. All rights reserved. AParry joined Society6 on February 22, 2013
More
Hello! I'm a production designer and illustrator based in the UK. Thank you for taking the time to look at my designs. If you would like to know anything about me or my work, or you have a design you would like to commission, please feel free to contact me.
To view my other work please visit: http://aparry.wix.com/portfolio
Copyright © 2011-2013 Annette Parry. All rights reserved.
AParry joined Society6 on February 22, 2013.