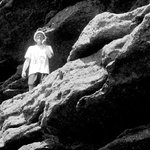 albarkeo
Hobart-born Alex Barnes-Keoghan's, specialises in traditional and digital wildlife illustration, sculpture and photography. Having completed a Bachelor of Natural History Illustration at the University of Newcastle, Australia, he now spends his time making...well...watercolour kaleidoscopes mostly. See a more diverse portfolio of work at albarkeo.com albarkeo joined Society6 on January 24, 2013
More
Hobart-born Alex Barnes-Keoghan's, specialises in traditional and digital wildlife illustration, sculpture and photography. Having completed a Bachelor of Natural History Illustration at the University of Newcastle, Australia, he now spends his time making...well...watercolour kaleidoscopes mostly.
See a more diverse portfolio of work at albarkeo.com
albarkeo joined Society6 on January 24, 2013.