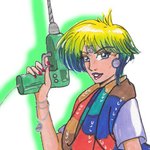 ApocalypseToo Studios
The sister site (literally and figuratively) of ApocalypseToo.com, featuring the artworks of Christina Carpenter.
Christina has been drawing since she could hold a crayon and dreamed of being a comic strip artist since she was five. She went to school and got her Bachelors in Communications with an emphasis in Graphic Arts. She got out of the art to pursue a career in Child Protective Services field and recently has begun to find her way back to her art as a means of stress relief.
Aside from ApocalypseToo.com and Society6, Christina also shows her works at various art and comic conventions in the Southwest region of the US.
Read more
ApocalypseToo Studios's Store
Filter