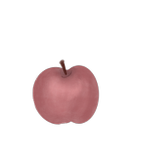 Appojoos
"What do you want to drink?" My parents asked. "Appo joos!" My two year-old self replied. "Coming right up!" They would say.
Mom and Dad reminded me of the way I pronounced apple juice at least once a year in my adult years. At some point, "appo joos" became my comfort word, the word to return me to happier memories, a word that reminded me of my parents. Mom is gone now, but I still have my appo joos.
We hope you too find a sense of calm, happiness, and innocence-returned with our products.
Have a cup of apple juice and smile.
Love, Nate and Tasha
Read more