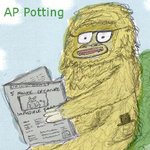 AP PottingJr
Hello to you and thanks for popping by.
I'm an humourist and illustrator. If you would like any art done bespoke to you please just let me know. I can do that kind of thing if I'm not too busy.
I mainly draw creatures. Creatures with funny stories.
I live with my lovely wife and imaginary miniature Pony, Lord Galaxion, in the English seaside city of Brighton (and Hove of course).
Read more