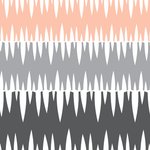 Debbie April 9
I'm a surface designer from Wollongong, Australia. Patterns, textiles, textures and stationery make me seriously happy. I'm drawn to working with repeat patterns, but also love experimenting with watercolour, pencils, artline pen and gouache. I like my designs to have a hand-drawn touch, so I aim to draw my motifs before manipulating them on the computer. Follow my inspiration trail on Pinterest: http://www.pinterest.com/minic7/boards/ Follow me on Instagram: http://instagram.com/debbie\_april9 Debbie April 9 joined Society6 on September 30, 2013
More
I'm a surface designer from Wollongong, Australia.
Patterns, textiles, textures and stationery make me seriously happy.
I'm drawn to working with repeat patterns, but also love experimenting with watercolour, pencils, artline pen and gouache. I like my designs to have a hand-drawn touch, so I aim to draw my motifs before manipulating them on the computer.
Follow my inspiration trail on Pinterest: http://www.pinterest.com/minic7/boards/
Follow me on Instagram: http://instagram.com/debbie_april9
Debbie April 9 joined Society6 on September 30, 2013.