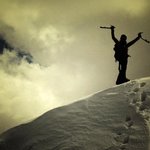 Araceli Segarra
Araceli Segarra was born in Lleida (Spain) Alpinist. Children's book Illustrator. Speaker. Writer. Occasional model. Graduated in Physiotherapy. Ms. Segarra began in mountain sports at age15 with an spelunking course, she continued exploring the outdoors through randonee skiing, rock climbing and ice climbing. In 1996 she became the first Spanish woman to climb Mont Everest. Her ascent was chronicled in the the IMAX documentary EVEREST. On the same expedition, she was a member of the rescue team during the worst disaster in the history of Mount Everest, when 13 people died. She has since worked in media and communications, publishing a series of illustrated children's books, and delivering motivational conferences around the world. In addition, she has participated in more than 30 climbing expeditions, some of them to open new routes. http://www.aracelisegarra.com Araceli Segarra joined Society6 on June 25, 2013
More
Araceli Segarra was born in Lleida (Spain)
Alpinist. Children's book Illustrator. Speaker. Writer. Occasional model. Graduated in Physiotherapy.
Ms. Segarra began in mountain sports at age15 with an spelunking course, she continued exploring the outdoors through randonee skiing, rock climbing and ice climbing.
In 1996 she became the first Spanish woman to climb Mont Everest. Her ascent was chronicled in the the IMAX documentary EVEREST. On the same expedition, she was a member of the rescue team during the worst disaster in the history of Mount Everest, when 13 people died.
She has since worked in media and communications, publishing a series of illustrated children's books, and delivering motivational conferences around the world. In addition, she has participated in more than 30 climbing expeditions, some of them to open new routes. http://www.aracelisegarra.com
Araceli Segarra joined Society6 on June 25, 2013.