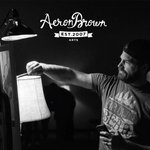 Aeron Brown
Art that invokes the deepest part of a human being's spirit, art that can make a grown man cry, make a woman labor in thought and cause a child to pause in curious reflection has always been a compelling force in Aeron's life. He can walk outside his home and catch a leaf meandering its way to the earth and be moved creatively by its simplicity. He can hear the melody of the lark and interpret the song of God's heart over his life with word's that inspire the soul. Seeing through multi-colored lenses, everything becomes a source of inspiration and a form of raw creativity. Waiting, longing, groaning to be painted. It can be as simple as an outlined figure or as complex as precariously placed scripture, phrases, magazine clippings across a canvas to convey a message. Art is what inspires the soul and gives wings to the caged bird. This is just a small way to describe the art that issues forth from a man who creates out of the seasons of his life. Aeron Razz Brown was born and raised in the Inland Empire of Southern California. At the passing of his father at a young age, Aeron was surrounded by his father's sketches, lyrics and creativity. As any son does, Aeron wanted to connect with his father in the very few ways he knew how, art and music. He began drawing and sketching at an early age, maturing with each life season he walked through. In school his teachers would harness his passion through self expression and discipline. The second serving as a launching pad later in life. As he grew older and entered fatherhood himself, the very reality of eternity and the gift of creation has become one of his primary forces of painting in this new life season. Aeron Brown joined Society6 on August 3, 2011
More
Art that invokes the deepest part of a human being's spirit, art that can make a grown man cry, make a woman labor in thought and cause a child to pause in curious reflection has always been a compelling force in Aeron's life. He can walk outside his home and catch a leaf meandering its way to the earth and be moved creatively by its simplicity. He can hear the melody of the lark and interpret the song of God's heart over his life with word's that inspire the soul. Seeing through multi-colored lenses, everything becomes a source of inspiration and a form of raw creativity. Waiting, longing, groaning to be painted. It can be as simple as an outlined figure or as complex as precariously placed scripture, phrases, magazine clippings across a canvas to convey a message. Art is what inspires the soul and gives wings to the caged bird. This is just a small way to describe the art that issues forth from a man who creates out of the seasons of his life.
Aeron Razz Brown was born and raised in the Inland Empire of Southern California. At the passing of his father at a young age, Aeron was surrounded by his father's sketches, lyrics and creativity. As any son does, Aeron wanted to connect with his father in the very few ways he knew how, art and music. He began drawing and sketching at an early age, maturing with each life season he walked through. In school his teachers would harness his passion through self expression and discipline. The second serving as a launching pad later in life. As he grew older and entered fatherhood himself, the very reality of eternity and the gift of creation has become one of his primary forces of painting in this new life season.
Aeron Brown joined Society6 on August 3, 2011.
Canvas by Aeron Brown
35 results
Filter