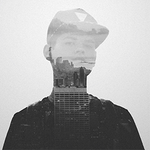 arcvision
Hey there. My name is Razvan and I'm a 19 years old freelancer. Follow me for more goodies and don't forget to check my other social media links.(facebook and instagram are not available at the moment) All the money I make here goes straight to my college fees. If you like something please buy it. It would be greatly appreciated. Thank you for your understanding. https://twitter.com/arcrovision http://arcvision.deviantart.com/ http://graphicriver.net/user/arcvision https://dribbble.com/arcvision https://www.behance.net/arcrovision I use more often deviantArt at the moment but soon I'll post also on the other accounts. arcvision joined Society6 on February 8, 2016
More
Hey there. My name is Razvan and I'm a 19 years old freelancer. Follow me for more goodies and don't forget to check my other social media links.(facebook and instagram are not available at the moment) All the money I make here goes straight to my college fees. If you like something please buy it. It would be greatly appreciated. Thank you for your understanding.
https://twitter.com/arcrovision http://arcvision.deviantart.com/ http://graphicriver.net/user/arcvision https://dribbble.com/arcvision https://www.behance.net/arcrovision
I use more often deviantArt at the moment but soon I'll post also on the other accounts.
arcvision joined Society6 on February 8, 2016.