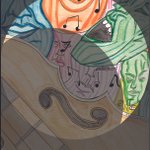 ArtHQ71 on Society 6
Believe it or not... around the summer of 2006 I was walking at night and saw 6 silent slow moving diamond lights in the sky. 5 were in a line and the 6th gradually caught up at the rear.
Ever since I have been making Alien City-Scapes. See the images below.
Read more
ArtHQ71 on Society 6's Store
Filter