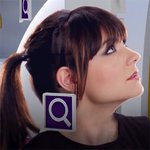 Ariel Waldman
Website: http://arielwaldman.com
Ariel Waldman makes "massively multiplayer science", instigating unusual collaborations that spark clever creations for science and space exploration.
She is the founder of Spacehack.org, a directory of ways to participate in space exploration, and the global director of Science Hack Day, an event that brings together scientists, technologists, designers and people with good ideas to see what they can create in one weekend. Recently, she launched Spaceprob.es, a catalog of the active human-made machines that freckle our solar system and dot our galaxy. Ariel is an appointed National Academy of Sciences committee member of a congressionally-requested study on the future of human spaceflight. She also sits on the council for NASA Innovative Advanced Concepts (NIAC), a program that nurtures radical, sci-fi-esque ideas that could transform future space missions. In 2013, Ariel received an honor from the White House for being a Champion of Change in citizen science.
For her work on Science Hack Day, Ariel has been awarded grants from the Alfred P. Sloan Foundation and the Gordon and Betty Moore Foundation. In 2012, she authored a white paper on Democratized Science Instrumentation that was presented to the White House Office of Science and Technology Policy. Previously, Ariel worked at NASA's CoLab program whose mission was to connect communities inside and outside NASA to collaborate. In 2008, she was named one of the top 50 most influential individuals in Silicon Valley by NowPublic.
Although her home base is in San Francisco, Ariel loves to travel across the globe to speak to a variety of audiences and work on fun projects. She has keynoted DARPA's 100 Year Starship Symposium and O'Reilly's Open Source Convention (OSCON), as well as appeared on the SyFy channel as part of their Let's Imagine Greater campaign. Her work with Science Hack Day has taken her to Colombia, China, Kenya, Madagascar, Mexico and South Africa to help grow budding science enthusiast communities.
Ariel originally grew up in Kansas where she worked at the interactive ad agency VML as a digital anthropologist and attended art school at the Kansas City Art Institute, later obtaining a B.Sc. in graphic design from the Art Institute of Pittsburgh. Never having anticipated that she would one day stumble into a gig at NASA, her mission is now to enlighten others on how anyone can actively contribute to the furthering of science and space exploration in clever new ways.
Read more
Ariel Waldman's Store
2 results
Filter
Department

Dept

Pillows & Bedding