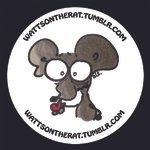 Wattson the Rat
Wattson the Rat, by arienvalo Wattson was born and bred as a lab rat for genetic engineering of artificial ears. He wouldn't hear of it. -- arienvalo is a not-so-starving artist wannabe, with a day job as a communications adventurer, battling dragons and wielding fancy stationery. Film photography enthusiast and conscience-for-hire. Tried her hand at writing and found it only possible when she does it in third person. Does custom painted shoes and bags on the side. Also awkwardly friendly with strange people from faraway lands. Wattson the Rat joined Society6 on July 1, 2013
More
Wattson the Rat, by arienvalo
Wattson was born and bred as a lab rat for genetic engineering of artificial ears. He wouldn't hear of it.
-- arienvalo is a not-so-starving artist wannabe, with a day job as a communications adventurer, battling dragons and wielding fancy stationery. Film photography enthusiast and conscience-for-hire. Tried her hand at writing and found it only possible when she does it in third person. Does custom painted shoes and bags on the side.
Also awkwardly friendly with strange people from faraway lands.
Wattson the Rat joined Society6 on July 1, 2013.